Jackson Hole Lifestyle Blog for 2011...
My intent with these blogs is to include reports about some of the activities that my wife and I and our friends participate in. Jackson Hole is an incredible place and these reports give me a chance to look back on some of the fun we've had.
January 11, 2011:
Here's some video of a solo skiing outing I did at an area known as Four Pines. Four Pines is two ridges to the south of the Jackson Hole Mountain Resort. It requires a couple of moderate climbs up a boot track. Four Pines is an area that can be subject to very serious avalanche danger, so it's a place that should not be skied without preparation and equipment.
The video was taken with a GoPro helmet video cam that I recently started using. Hopefully, I'll add more video reports as the days go by.
Jackson Hole Backcountry Skiing 1-11-2011 from Robert J Peters on Vimeo.
January 17, 2011: A schizoid ski day at Jackson Hole
Today may have been one of the most bi-polar days of skiing I've seen at the Jackson Hole Mountain Resort in my nearly 40 years of skiing here. The numbers on the morning ski report sounded pretty good - 8" of new snow in the last 24 hours, 3" since the lifts closed yesterday.
A closer look, however, suggested a little caution. The 6am temperature at the top of Rendezvous Mountain was 21 degrees( F), and the average windspeed was around 35mph. The temperature at the BOTTOM of the ski hill, however, was THIRTY NINE degrees. Not only that, there was nearly 1.5 inches of water equivalent in that 8" of new snow. That implies extremely dense snow.
I went up the early gondola and when we were cleared to ski at about 9:10am, we immediately found a noisy little ice layer on top of the snow. It didn't ski BADLY, exactly, but it sure sounded weird. Got on the Thunder chair and had to knock about 3/4 of an inch of rime/ice off the bars of the chair.
At this point, our expectations for the skiing were very low. Got off Thunder and skied down the edge of Grand to the Sublette chair. Grand was smooth and untracked and we seemed to be above the ice layer. On the way up Sublette, we watched three guys just BLAST down Flip Point and Laramie Bowl and our hopes started to soar. They were skiing on top of what appeared to be a wind-buffed surface that was smooth as creamery butter.
Got off Sublette and flew down Mudslide/Dogface to Flip Point, onto Pepi's Run, and hung a huge left turn into the upper shoulder of Alta Chute #1. All the bumps from the day before had been utterly eradicated by the wind and new snow and we just screamed down A-1 at the highest speed I've ever skied it. Whoa!
Back on Sublette, the clouds parted just a little and we could see over to the Cirque. There wasn't a single track on the main face of the Cirque, so that's where we headed. We came by the ski patrol director on the Cirque Traverse just as he and some of the patrollers were taking down a closed sign. I was the very first member of the public on the high traverse, sidestepping and poling over to the far end of the Cirque over next to Pair-A-Chutes. Dropped in and skied about four Super-G turns all way down the entire face of the Cirque, just skimming over this smooth, dense, flawless surface. It was my best run of the year, in a season that's already been full of great skiing.
After a little side trip into lower Toilet Bowl, we skied down to the base of Thunder chair. There was a big line for the lift, so we decided to traverse over to North Colter Ridge and ski down to the tram. HUGE MISTAKE! North Colter was deep, thick, heavy snow with about a 1/2" ice layer on top. The ice wasn't thick enough to support me on about two-thirds of the turns, so I would alternate between bouncing off clumps of frozen junk and dropping through the crust into a thick sludge that was almost impossible to get back out of. It was easily (by a factor of about ten) the very worst run so far this season.
So there you have it - best run of the season up high, worst run of the season down low. All within the space of about three minutes and a thousand vertical feet.
You gotta love skiing at Jackson Hole.
(And by the way, our total snowfall for the season is now over 280", it's snowing now, and there's a lot more snow in the forecast for tonight and tomorrow.)
January 19, 2011: Outrageously Good Powder Skiing
We had a mircoburst of snow last night, leaving 14" of new snow this morning and blue skies. I got invited to join a local group who had hired JHMR Alpine Guide Tom Turiano for a session of out-of-bounds skiing. The Alpine Guide program offers skiers and boarders a chance to access the backcountry skiing from the Jackson Hole Mountain Resort with highly-experienced guides who know these mountains like the back of their hand. Not only does the guide program allow riders to board the aerial tram in the morning before the public, but also offers liftline-cutting privileges.
Tom is a climbing and skiing guide as well as author of the "Bible" of backcountry skiing in the Tetons, the book "Teton Skiing: A History and Guide", which is available through Tom's website.
The day was literally picture-perfect. We skied beautiful fresh lines in the bowls and faces to the south of the tram. After our first run, we were joined by Dave Miller, longtime guide and now supervisor of the guide program. That meant we had TWO legendary Jackson Hole guides showing us their best stuff based on decades of experience in this terrain. It was amazing.
I got a fair amount of helmet-cam footage and will try to post a video tomorrow.
For now, here are a few photos from the day...
Here's the mountain from the tram base at 8:30 this morning: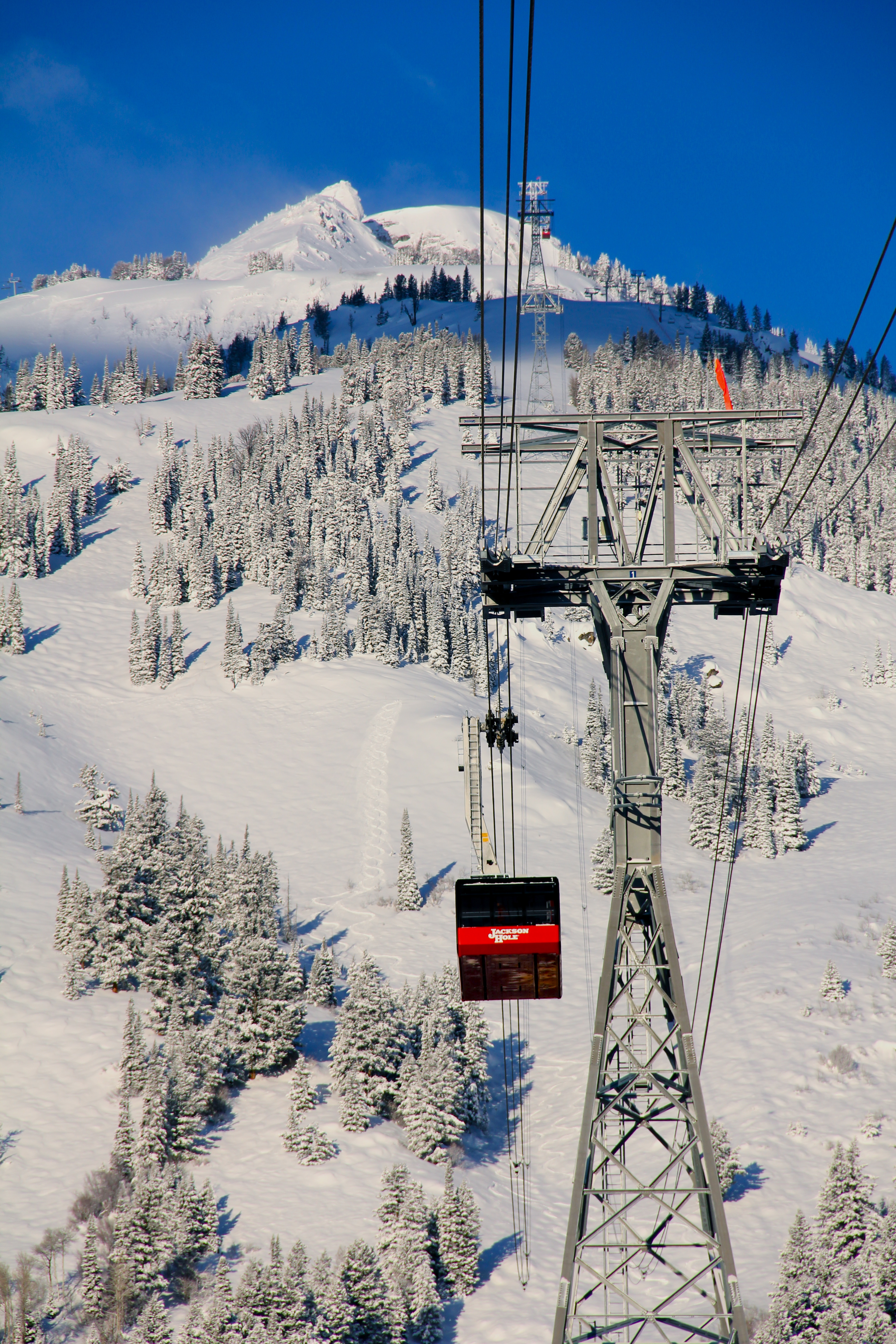 Here's Tom doing what guides do best; setting the line by skiing next to the trees and leaving the open powder shot for the clients: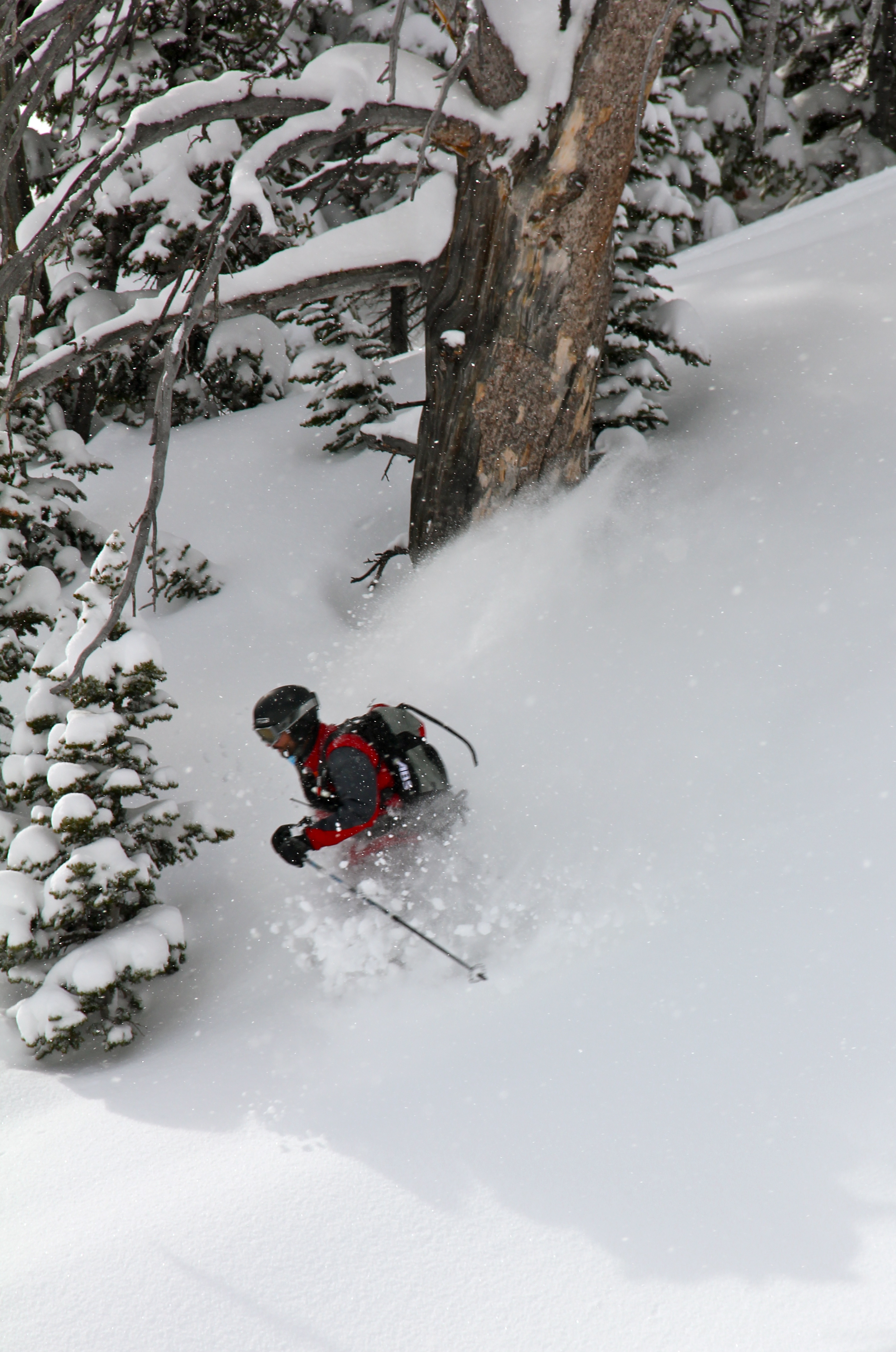 Here's Karen enjoying a little snow: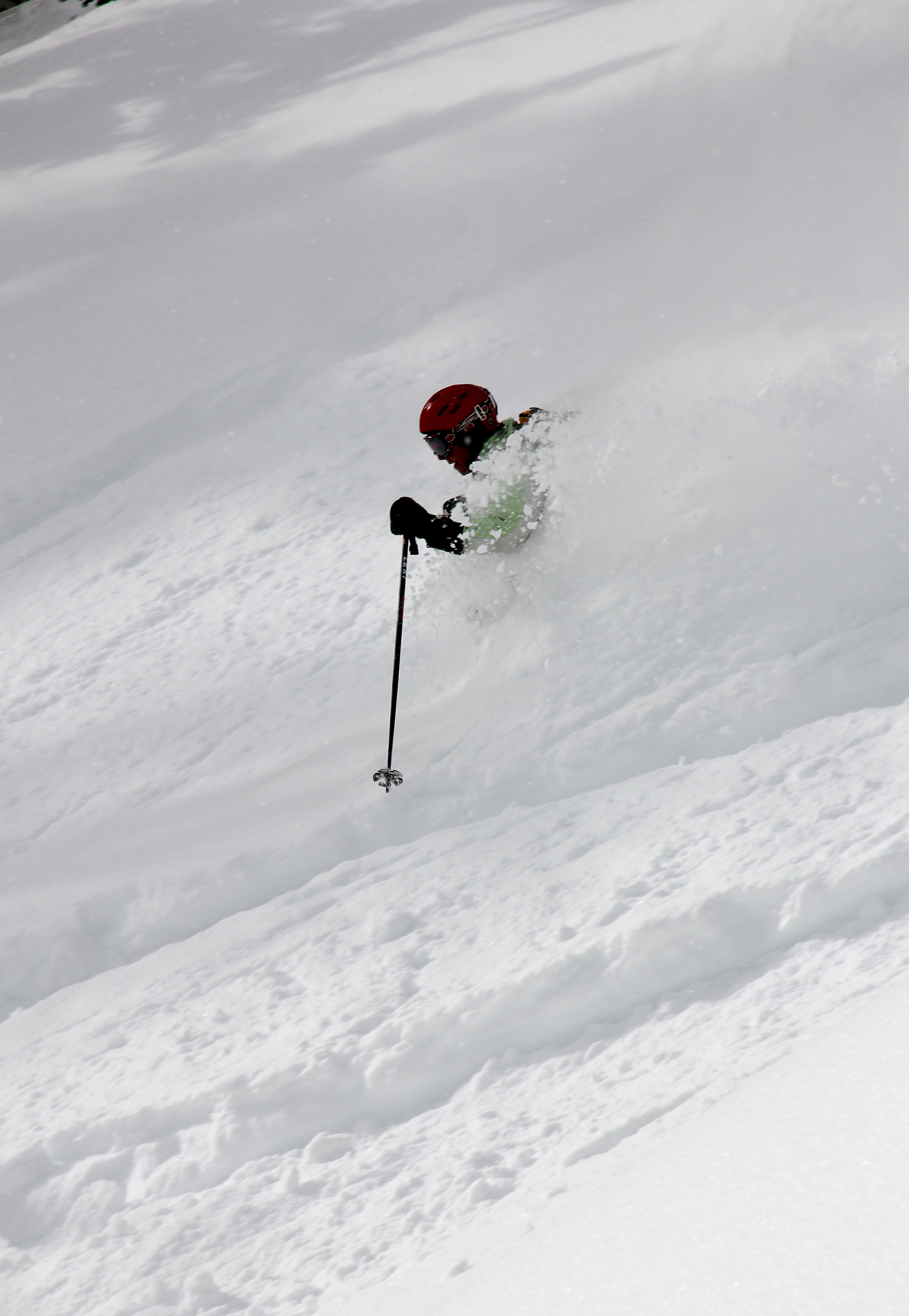 And here's Dave maintaining terrain familiarity: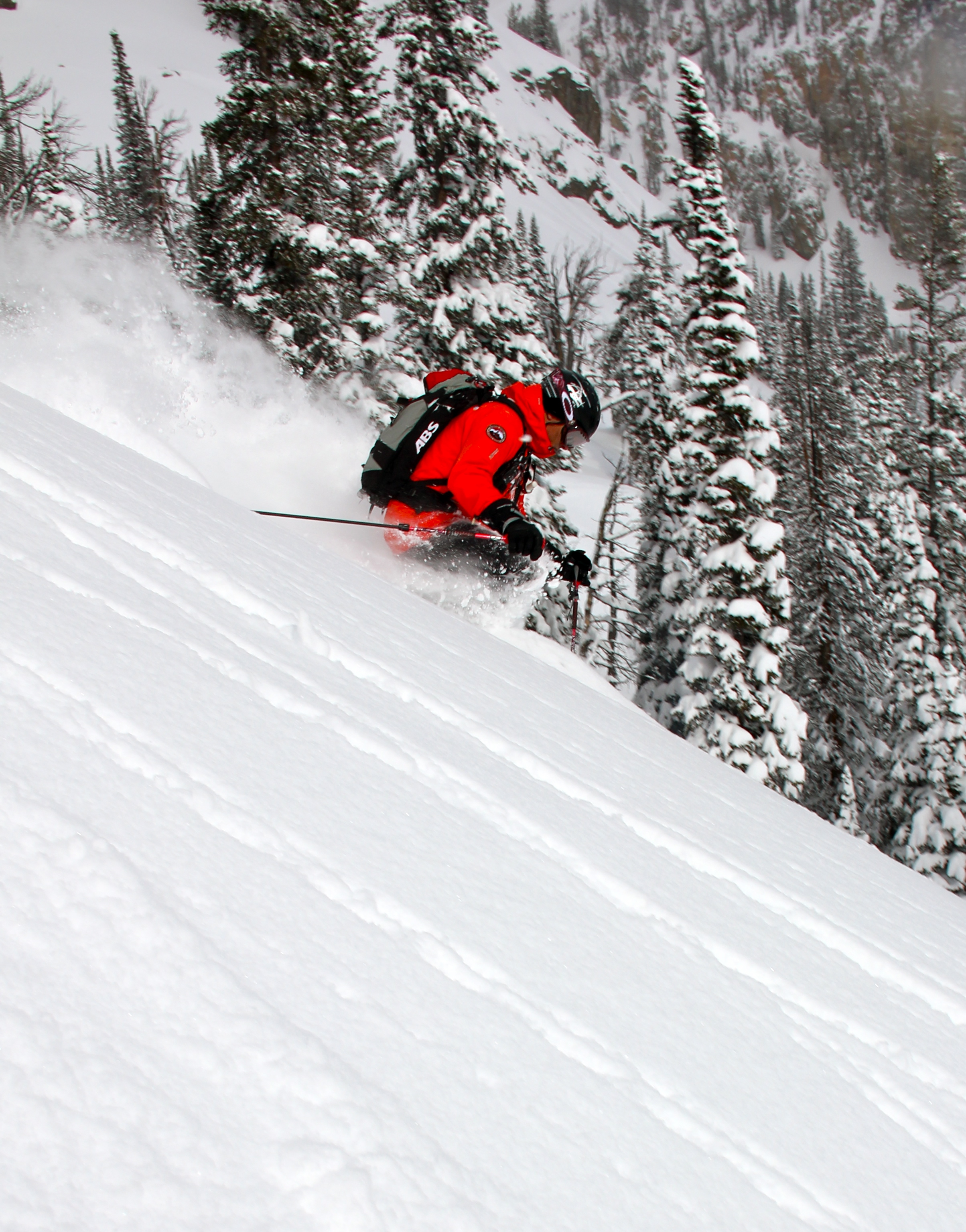 We now have 304" of total snowfall for the season, a 102" base, and we're not yet halfway through the season.
Wow.And here is a video from the same day:
Jackson Hole - Guided Backcountry Skiing 1/19/2011 from Robert J Peters on Vimeo.
February 13, 2011: Recon Mission
We haven't had any significant snowfall here for several days, so this morning I went on a ski tour to an area that's completely new for me. I went alone because sometimes these exploratory forays turn into a lot of slogging around for very poor skiing.
Luckily. today turned out pretty well. The skinning was kind of miserable but once I got through the first hour of billy-goating up a steep, narrow ridge full of rocks and trees, the rest of the tour was outstanding. I skinned for a total of about two hours, gained 2500 vertical feet, and reached a vantage point where I could see literally miles of really good-looking skiing. It looks like a fantastic place to go once we get into spring-skiing mode.
Here are a couple of photos: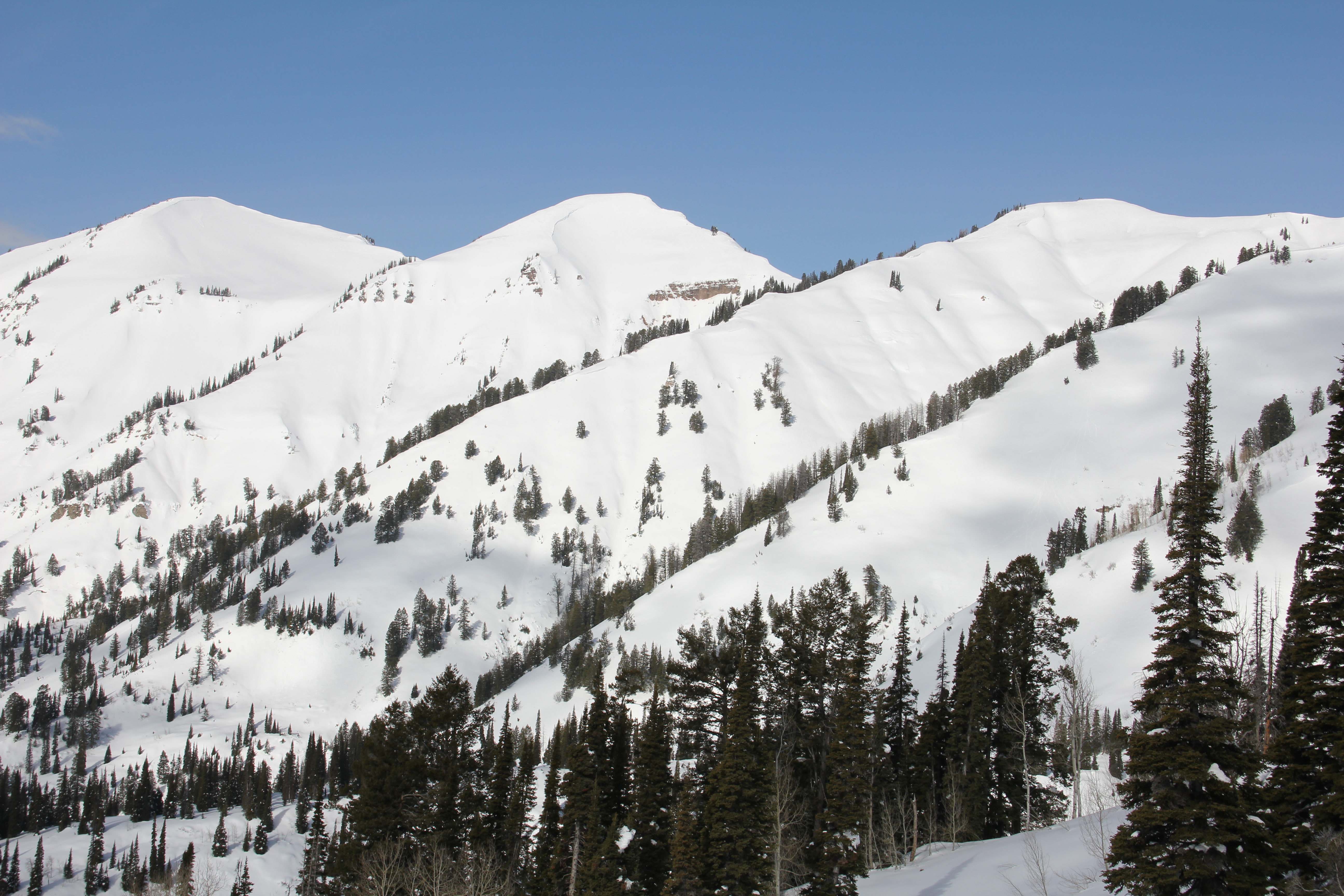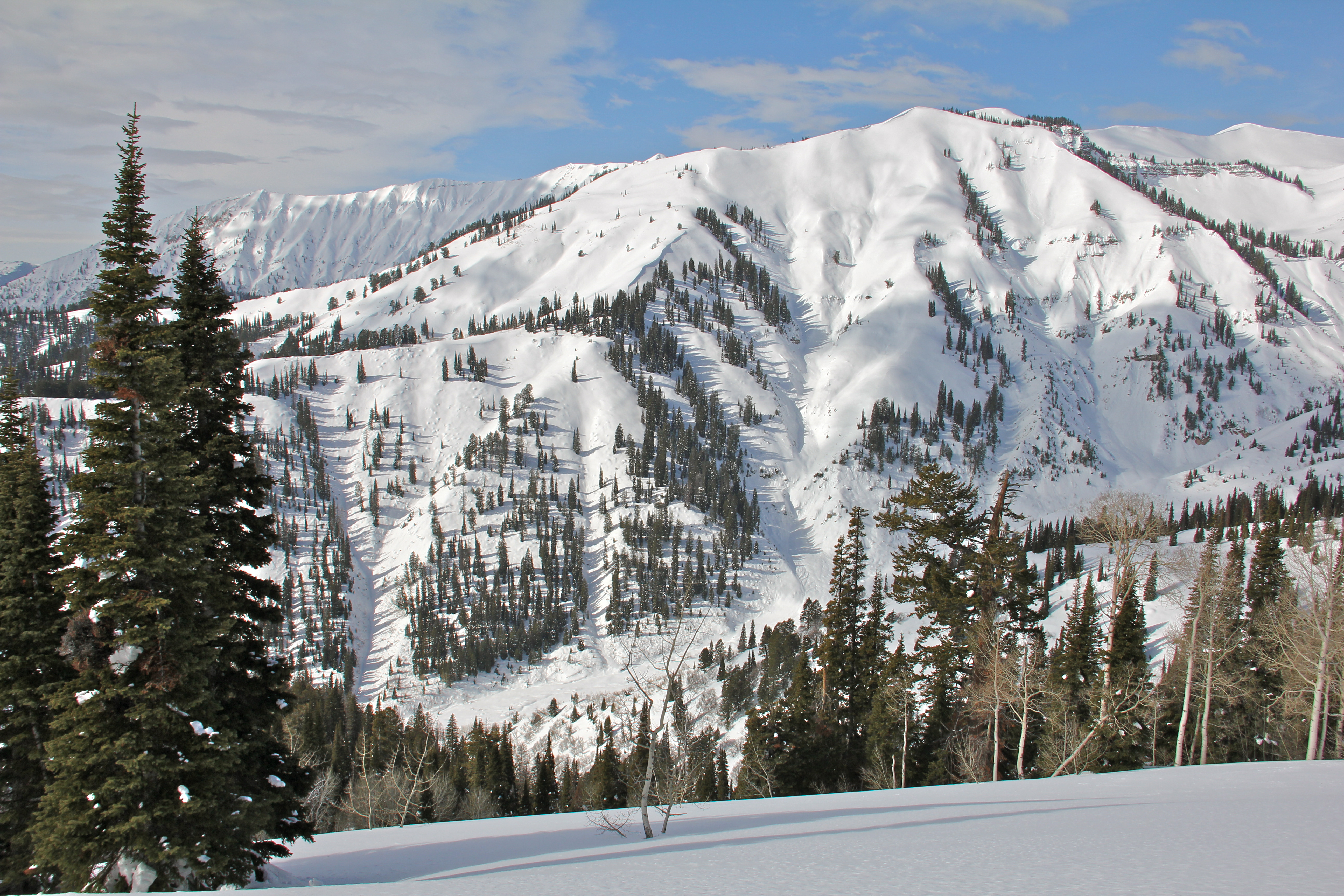 March 17, 2011: St. Patrick's Day - Powder Snow and Green Kids
I'm sure St. Patrick's Day is a big holiday at other ski areas, but it's a huge event here at Jackson Hole.
What made it even better this year was the big snowstorm that rolled in right before March 17. The NOAA forecast was calling for a "SNOW EVENT".
So how's this for an interesting little factoid? Guess how many inches of new snow (in the past 24 hours) Jackson Hole Mountain Resort had in 24 hours as of the morning of March 17?
Seventeen.
How could it be anything but?
That meant we had a big dump of snow and a lot of people in a party mood on the hill. Among those happy people were Stephen McDonald as well as wife Christy and their four kids. Stephen is a master bootfitter at Jackson Hole Sports (base of the Bridger Gondola), and it's a real hoot to ski with him and his family.
The whole family was decked out in green (as befits their Irish heritage) and I joined up with them for a couple of runs of powder and photos. Here's the result (and I hope Stephen will forgive me if I get some of the name spellings or the ages incorrect):
McDonald Family in the gondola car (l-r; Christy, Blaze, Demaris, Stephen, Liberty, Eden):
Demaris (age 7) emerging from one of the Stash Park features:
Demaris up to her waist in powder:
Powder skier extraordinaire:
Little rippin' huckster:
Sister Liberty (age 9):
Playing in the powdah:
Leaping off a road while Dad watches:
More powder:
More jumping:
More powder:
How's this for a charging body position for a powder skier?
For everybody who ever asks how to ski powder... here's the recipe:
A. Manage to be born Liberty McDonald.
B. Become (at age 7) the youngest person ever to ski 100+ days in a season at Jackson Hole Mountain Resort.
C. Ski stuff like this all the time:
Here's older brother Blaze (age 13), slightly out of focus because he skis so fast I could never keep up:
Blaze likes powder, too:
Doing his best to imitate St. Patrick, Blaze is chasing all the snakes out of Jackson Hole:
Showing off his Ireland soccer sweater:
Oldest sister Eden (who just turned 15). Eden likes powder just as much as the younger ones:
Buzzing the photographer:
Here's mom:
And dad (resplendent in an authentic Harris Tweed jacket):
I wonder where the kids got their love of powder skiing?
And the family on upper Casper Bowl:
I had a riot skiing with the McDonalds. I definitely had the luck of the Irish in hooking up with them. My thanks to all of them.
And I'll leave you with this shot of a happy kid:
March 23, 2011: March Madness
Just a little report on how bad the March skiing has been here at Jackson Hole. Some self-annointed experts on the internet claim that the skiing can be bad here in March and you would never want to schedule a ski trip to Jackson in March because of unreliable snow. I always respond to that by saying that I've skied here for over 40 years now and some of my very best powder skiing over all that time has come in March. This year has been no exception.
Today's madness actually started yesterday, on Tuesday the 22nd.
Tuesday's early morning snow report said 6" of new with a forecast of increasing snowfall through the day. Tuesday was outstanding skiing but the visibility was, how shall we say, ummm, LIMITED. Windspeed apparently reached 70mph during the day and at one point it was snowing 3 inches per hour. The skiing was better at the end of the day than at the start, and the snow was still falling.
I woke at one point in the middle of the night and the clouds had disappeared and all the woods around our house was lit up by the moon. That meant sunshine and new snow for Wednesday.
On Wednesday morning, I called for the snow report, expecting to hear something like ten or twelve inches of new snow. When the report said TWENTY-THREE INCHES, I was just amazed. That's one hell of a lot of snow in a 24-hour period for Jackson Hole. It also pushed our total snowfall for the season to over 500".
Whoa.
Here's what the mountain looked like as I pulled in to Teton Village at 8:00am Wednesday morning:
Needless to say, sunshine and almost two feet of new snow (and close to four feet in the last week) brought out just about every powder prospector in the valley. Here's the line for the tram an hour before the lifts opened. The line extends off the tram dock and down the hill to the left, curling around the building you can just make out next to the "SLOW" sign, and then extending back up to the Bridger Center:
Looking up at Grand Woods (Grand run is on the right) from the Sublette chair at 9:15am. Can you guess which of those tracks is mine?
Random unknown tele skier in Alta 1.5 chute. Photo taken from the Sublette chair: