I invited 14 people to join me yesterday - and the only one who showed up was my wife.
I'm not sure what that says about me, my wife, or my so-called friends, but it was their loss. We've finally had a few days of sunshine after what has seemed like weeks of unending rain. It was a beautiful day to be up on the mountain and the skiing was as nice as the day.
Our target for the day was the east flank of Cody Peak, which is known as "Powder 8 Face" because the US National Powder 8's used to be held there years ago. It's a total of about an hour of skiing, skinning, and booting to get to the top of Powder 8 Face from the top of the tram at the JH Mountain Resort, but it's really worth it once you're there.
Here's Ruthie skiing a small bowl on our way to the main destination. Powder 8 is the wide snowfield in the upper left-hand corner of this photo, and we skied right below that cliff band where the rocks start on that snowy ridgeline:
Here's Ruthie booting up the east side of Powder 8:
Here I am right at the top of the snowfield we're going to ski:
Cranking up the corn harvester:
This is what we came for:
June 24, 2010: Attack of the Lupines
We took a walk along the banks of the Snake River. I'm sure it's due mostly to the buckets of rain we had this spring, but the riverbanks are literally covered with perennial lupines. These flowers smell wonderful and look great, too: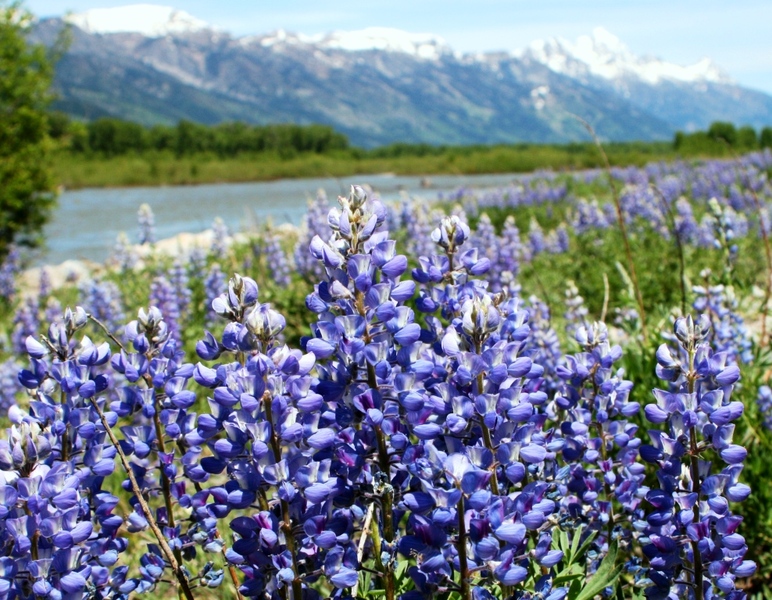 Due to website space constraints, that's it for the blog for January to June, 2010. Here are July to December, 2010 blog entries.