This is a continuation of my little chronicle of the Jackson Hole lifestyle. To look up past comments and adventures, please click this link for the
January to June of 2010 blog
.
June 27, 2010... Our outstanding excursion to Yellowstone:
Two of our skiing friends from New England were visiting Jackson Hole during the last week of June. They spend their winters skiing with all of us in Jackson Hole but the rest of the year they work tirelessly at their apple farm in New Hampshire. This was the first time in years that they had visited during the summer, and neither of them had ever been to Yellowstone National Park.

As a special treat to make their first visit to America's first National Park REALLY special, we arranged for a day tour of Yellowstone with Ana Rode, owner of Ana's Grand Excursions (http://www.anasgrandexcursions.com/home.html or 307-690-6106). Early in the morning, Ana met all eight of us in Jackson with her comfortable and well-appointed Mercedes mini-bus and off we went. Ana is a delightful woman who really loves what she does. She helped us envision the unique geology of this incredible place and showed us many things I've never seen (and I'm a very experienced traveler to Yellowstone). We saw waterfalls, hot springs, geysers, mud pots, fumeroles, eagles, osprey, deer, bison, and elk,

If you're planning to visit Yellowstone and Grand Teton National Parks, I enthusiastically recommend Ana's excursions. You'll come away with a profound appreciation for one of the world's most amazing places. Here's a little video I did of the day:


Yellowstone National Park with Ana's Grand Excursions from Robert J Peters on Vimeo.
And here are some photos: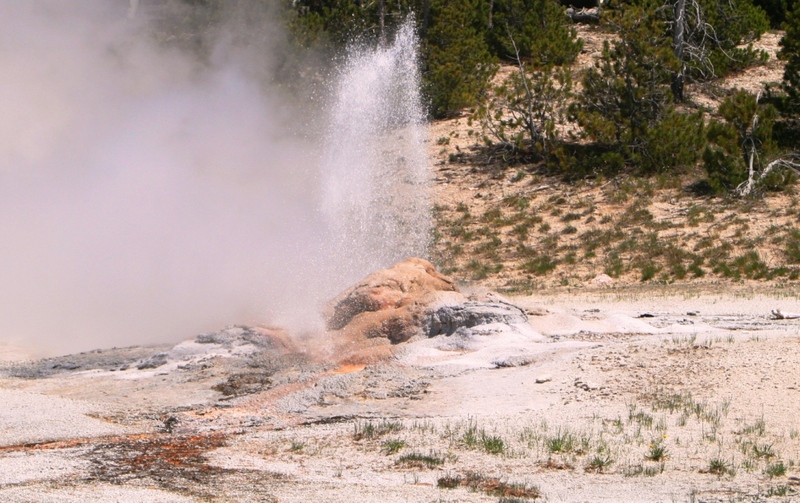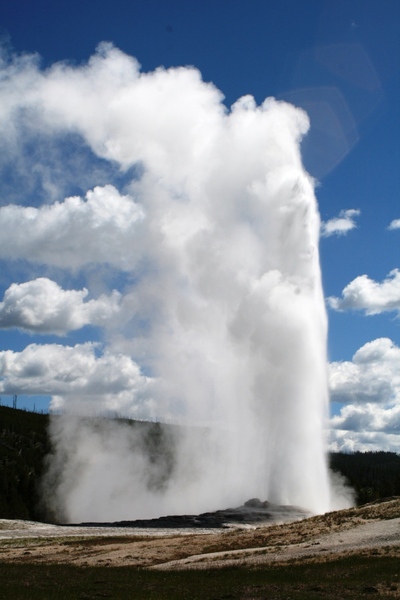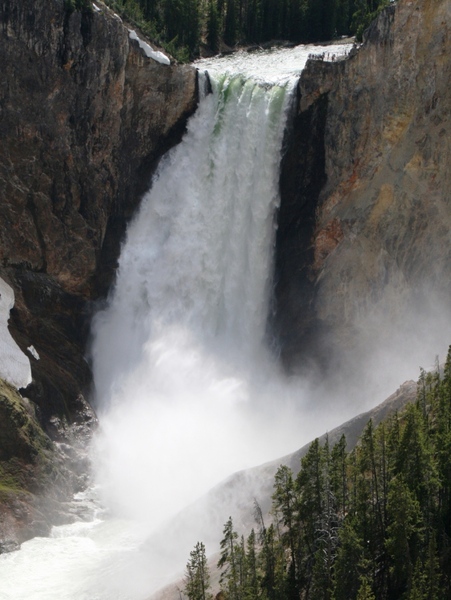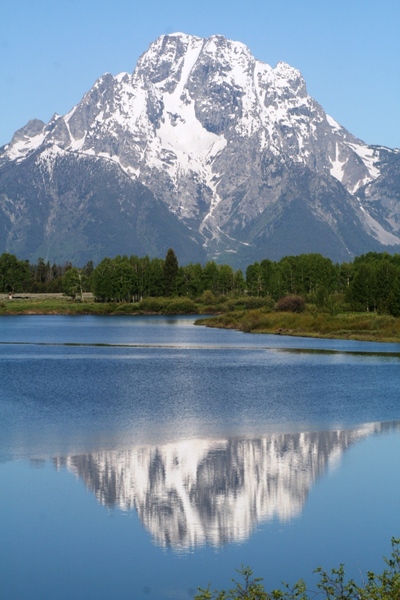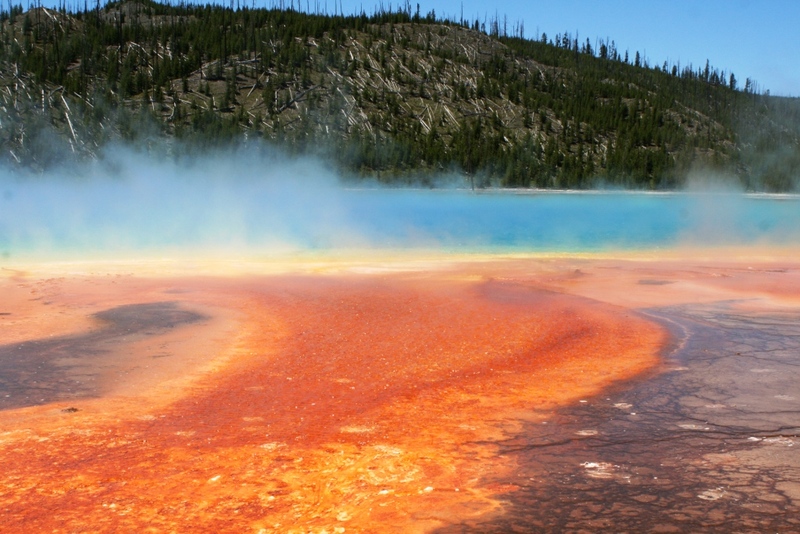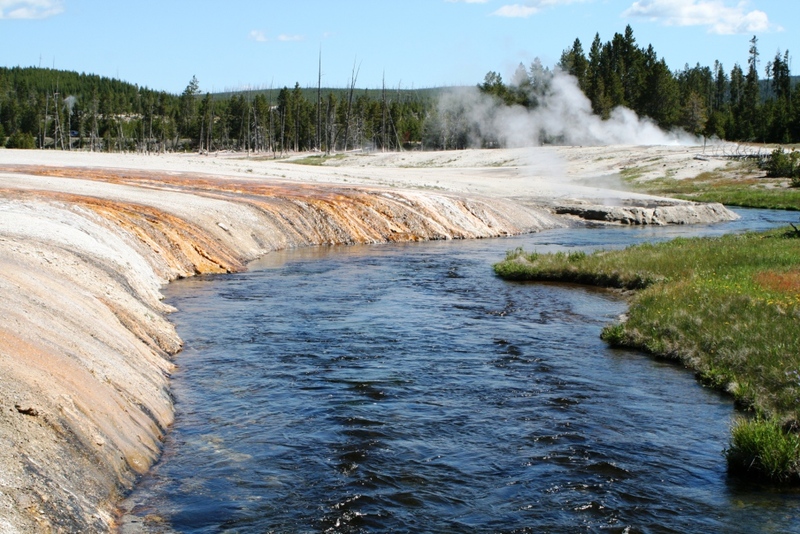 July 4, 2010... Skiing Jackson Hole Mountain Resort on Independence Day:
The Fourth of July was a beautiful day with moderate temperatures in Jackson Hole. For many years, I've been involved in a streak where I ski (on snow) at least once every month of the year. Sunday had all the primary ingredients for a smmer skiing outing; plenty of snow up in the mountains, cold and clear skies the night before, and sunshine in the morning PLUS the chance to celebrate the Fourth in a pretty fun way.

I've now been at this ski-all-year thing for almost 13 years, with this July marking my 154th consecutive month. When I first started doing this, it was almost impossible to get anyone to go along (except occasionally my wife). Skiing in the summer is starting to be more popular, however, and I'm now finding that other "crazies" will come with me.

Sunday, four of us went up the first tram at the Jackson Hole Mountain Resort at 9:00 in the morning. Here are a few photos of the skiing.

This is Jack riding his snowboard toward a little chokepoint between rock outcroppings: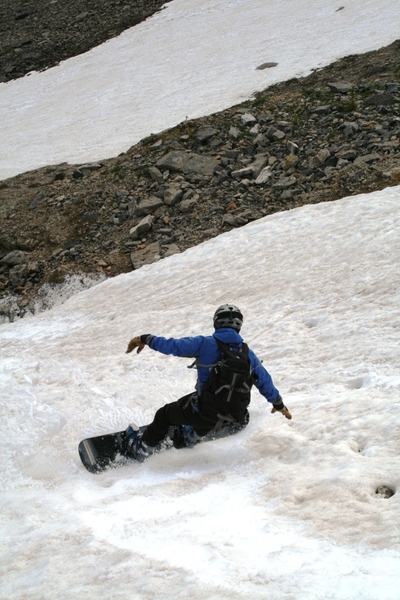 And here's Jim giving the rocks a little spray of snow: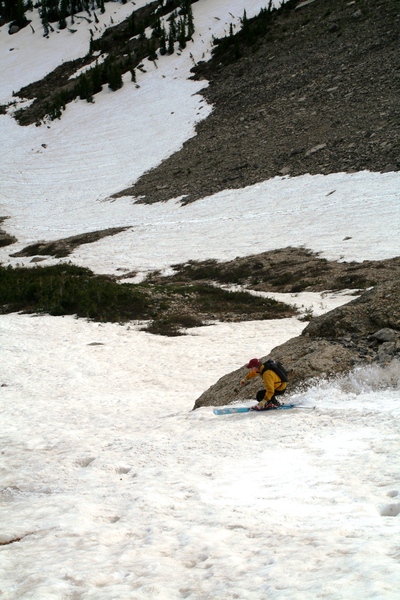 Our little expedition was also graced with the presence of one of the true legends of skiing. Former Olympic gold medalist and Ski Hall of Famer Pepi Stiegler joined us, showing us how it really should be done: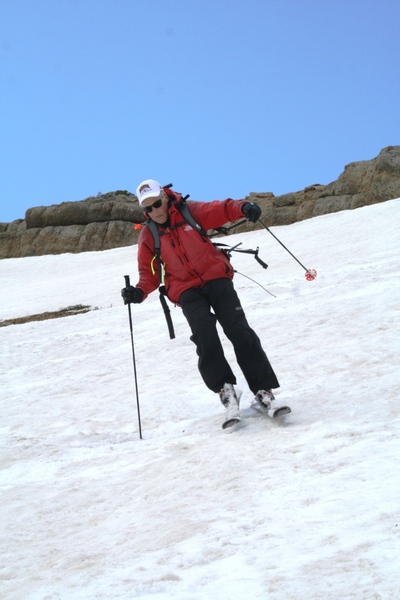 And here are three of us at the bottom of the snowfield. That's me holding Jack's snowboard (while Jack is taking the photo), Jim is in the middle and Pepi on the right: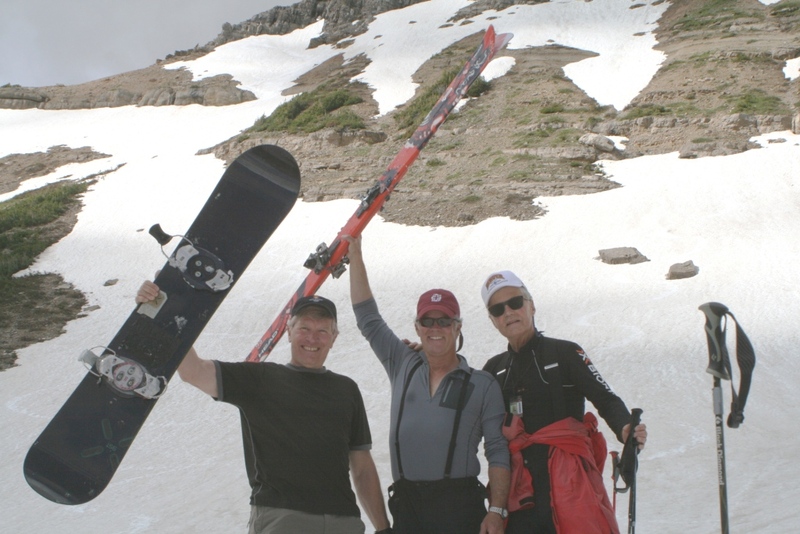 Great fun.

July 6, 2010... Climb The King!

One of the more popular hikes in Jackson Hole is the walk up the Snow King ski resort right at the edge of the town of Jackson. The ski area is known as the "Town Hill" and has been in operation for 70 years. The mountain has a vertical rise of 1,571 feet with a top elevation of 7,808 feet above sea level.

The hike follows a very popular trail from the base of the Summit chairlift to the top of that lift. Those whose knees don't like hiking down - like me - can ride the chair down for just $2.00 per ride. You can also ride up the chairlift and walk down (or ride back down), of course.

The trail switchbacks through lodgepole pine forest as well as open meadows with wildflowers. The hike is fairly strenuous and takes anywhere from about 30 minutes (for freaks of nature) to a little over an hour. If you go, take some water and bring a rain jacket because weather in the mountains can change quickly. Wear your sunscreen, too!

I've been participating in a local charity fundraising project for the Jackson Hole Community Counseling Center called Climb The King. People who hike up can register and earn donations for the center. It's a really fun event that helps lift people's fitness levels and contributes to a great cause.

Yesterday afternoon, I had hiked up and was riding down the chair. Here's a view of the town of Jackson and much of the Jackson Hole valley from the top of the chair: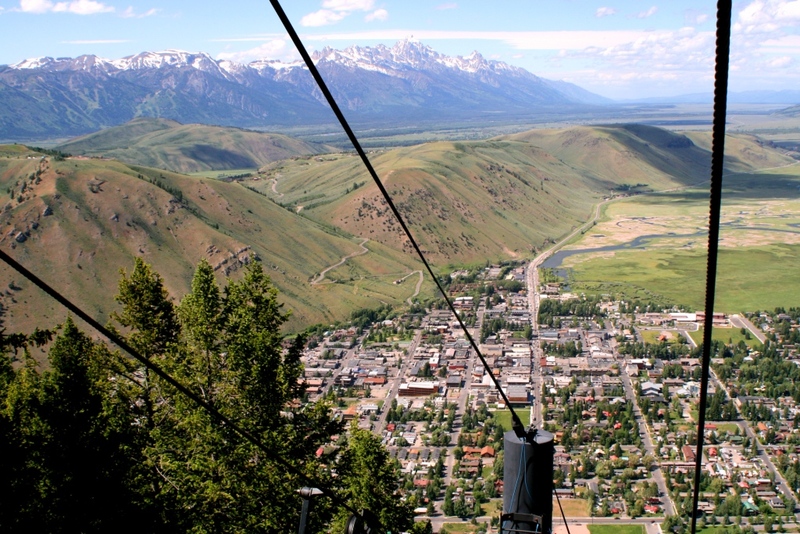 Here's a view of a fox that had been out successfully hunting and was walking back to its den on one of the Snow King trails as I was riding down: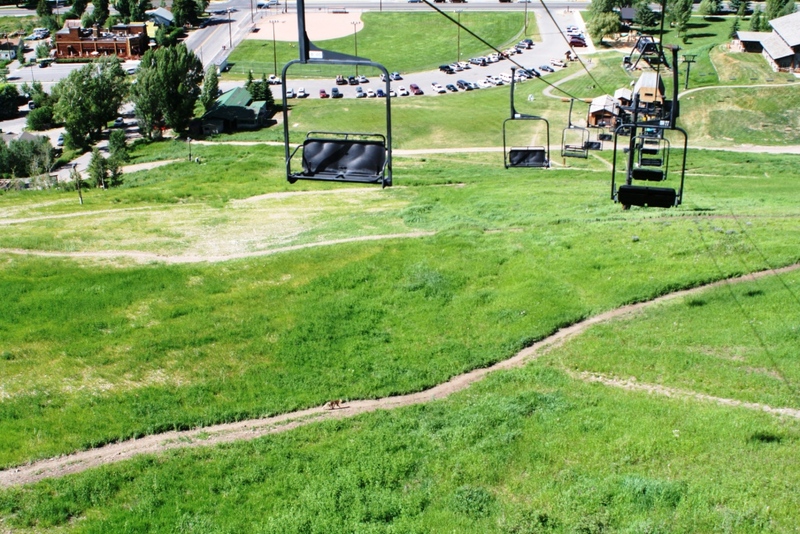 And here's a closeup that shows it carrying a small rodent: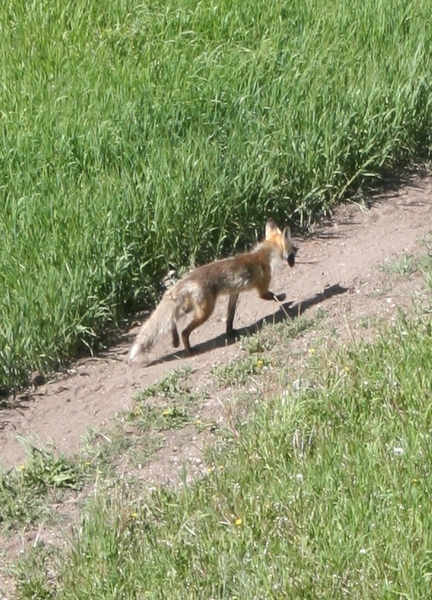 July 8, 2010... Golf at Huntsman Springs in Driggs, Idaho:

Huntsman Springs is a new planned residential golf community just on the outskirts of Driggs, Idaho. They've recently completed a new private golf course and it was open to the public on a introductory basis on July 8. Several friends from Jackson and I made up two foursomes and headed over for the day.

I like to play golf but I only do so about a half dozen times a year, so my game is extremely erratic and my experience isn't necessarily representative of what a "good" golfer would find at any given course. I played to an 8 handicap about 20 years ago but today I'm giving away strokes when my friends peg me at an 18 handicap.

All that said, the course is a very beautiful links-style course with lots of variation. It's also extremely challenging. I struggled mightily to shoot an exact 100 and even that was only the result of a couple of lucky long putts. There are lots of subtle elevation changes and many strategically-placed bunkers that came into play (for me) often. I hate to admit this, but it's not a course that I want to rush right back to. It's very much a "target golf" style of course and that doesn't suit my game very well. Anyway, it's a very pretty site and the developers seem to have spared no expense in building an impressive course.

Here's our group teeing off on one of the par Fives: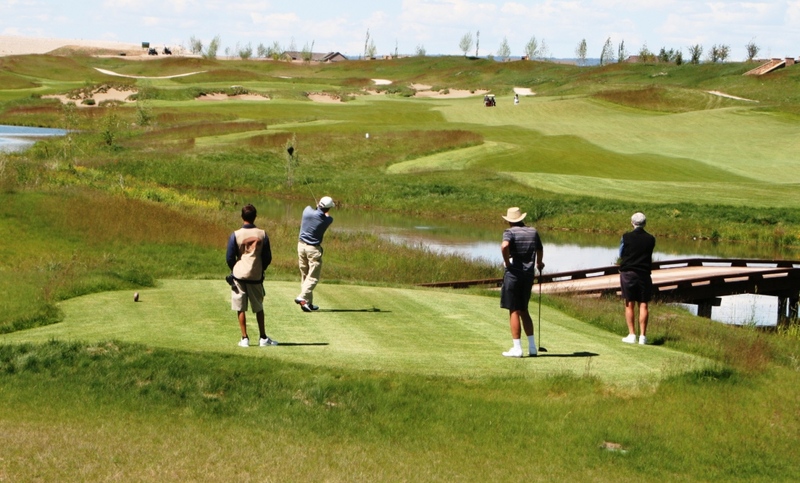 Jim tees off with some of the new homes in the background: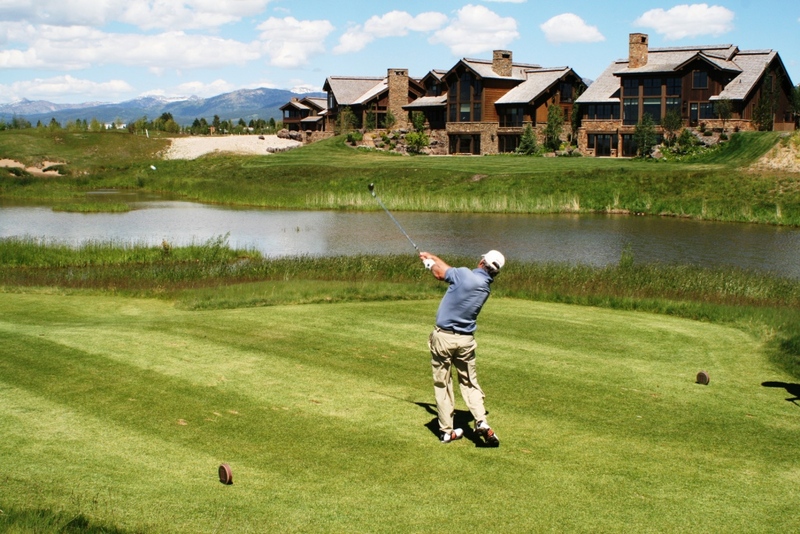 And Tom hits his shot to a backdrop that includes the Grand Teton in Grand Teton National Park: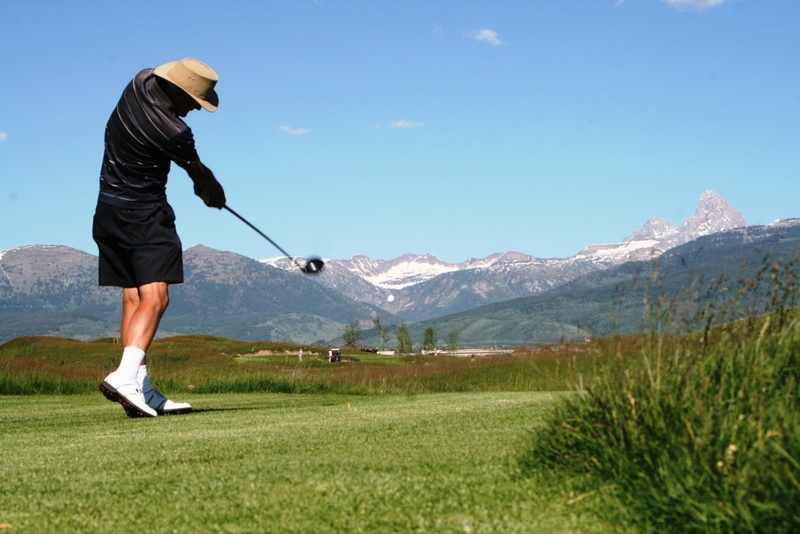 July 9, 2010... Jackson Hole fishing update:
Flows on the Snake River here in Jackson are dropping fast from our runoff period a couple of weeks ago. Not only that, but the river has cleared to the point where visibility is excellent. Add in some pretty substantial hatches of giant stoneflies and little yellow stoneflies and things are looking really good for the remainder of the fishing season.

It appears that the Blureau of Land Reclamation and the Idaho potato farmers are going to keep stream flows on the Snake relatively stable for the next couple of months, so the fishing should only improve from here.

I've been fishing the Snake pretty much every evening with really good success. I'm fishing streamers (JJ Special and small black flashabuggers):


I've been fishing them on a downstream swing that brings the fly right up against the rocks on the edge of the water. Most of the fish have been slashing out of the protection of the rock/log structure at the bank and grabbing the fly. I've caught several cutthroats over 18" and even caught a 15" brook trout. Nobody believes me about the brook trout because everyone knows there are NO brook trout in this section of the Snake and I didn't have my camera to prove it, but I've been catching every kind of North American trout for nearly 50 years and I know this was a brook trout.

As for the streamers, my experience has been replicated by Dave Bertsch, who guides flyfishing trips in and around Jackson Hole. Dave hosts a fishing blog at
http://davebertsch.wordpress.com/ and his website is http://www.snakeriverkayak.com/fishing.htm. Here's an excerpt from Dave's blog today:
"The fishing on the Snake is continuing to improve and this improvement is mainly manifesting itself by the appearance of some larger fish. Yesterday, brown articulated bunny strip streamers provided some good action on the banks, yielding a couple of fish of 16″ +. Large, gaudy streamer patterns did not provide as consistent action as the smaller, drabber flies. Size 8 and 10 streamers seemed to work best.
Fish are feeding on the surface, but the better fish will be caught on streamers for the time being."
July 10, 2010... Hiking in the Gros Ventre Range:

Our weather has finally settled down and the summer hiking season has really kicked into gear. My wife and several of her friends are avid hikers who go on pretty big hikes two or three times a week. I occasionally join them on some of their more exotic trips.

This hike goes from the trailhead near Granite Hot Springs (south of Jackson to Hoback Junction, then east to the Granite Creek road, then almost to the end of the gravel road) to a beautiful ridgeline overlooking Shoal Falls. All of this hike is in the Gros Ventre Wilderness Area, along the south flank of the Gros Ventre mountain range. The hike is about 5.2 miles one way with about 1,500 feet of elevation gain. We opted for a slight add-on to get to the top of a knoll south of the overlook, so our trip was probably a bit over 12 miles round trip.

The big highlights of the day included a profusion of wildflowers in the meadows like these Mule's Ears: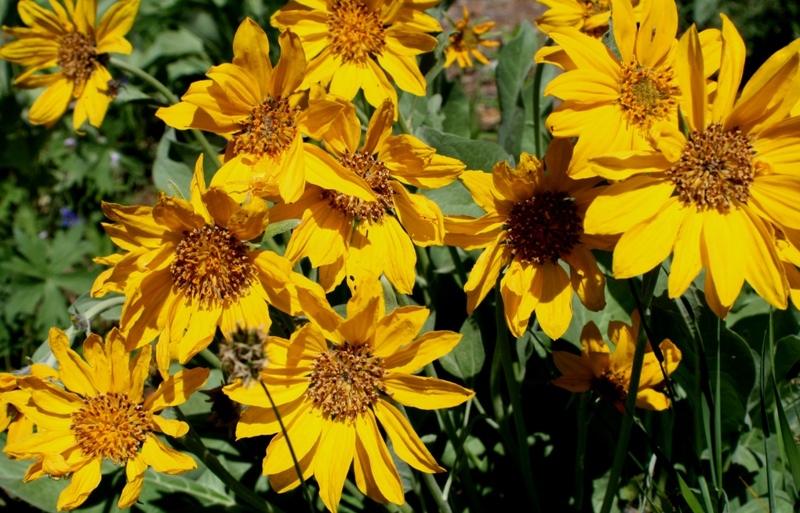 Or this larkspur being scavenged by a bumblebee: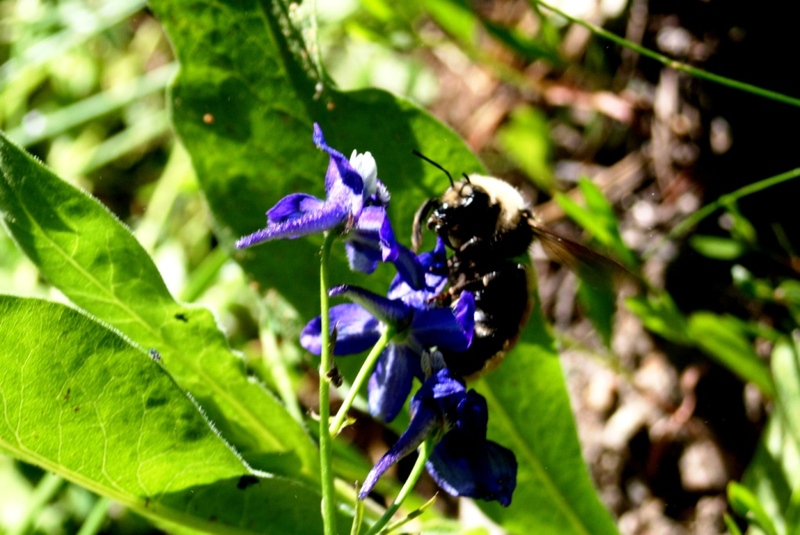 And this flower that I believe might be a mountain geranium: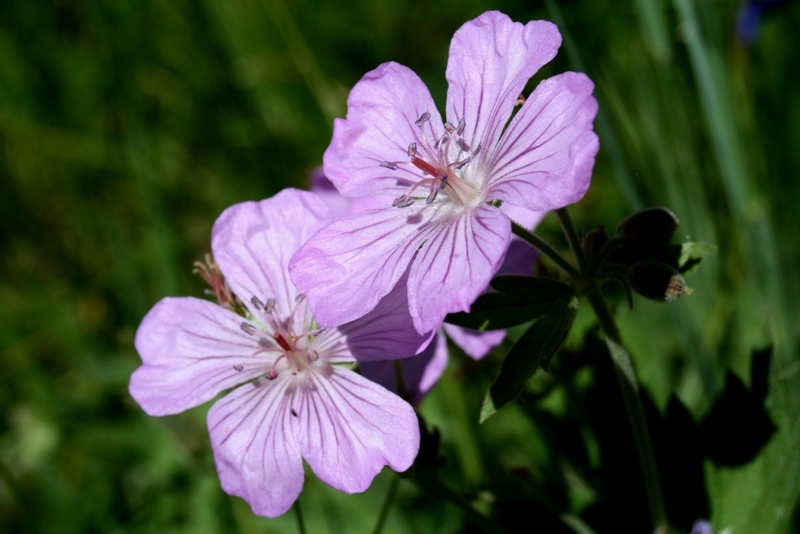 The backdrop was just spectacular. You can just pick out some of our party hiking up through this open meadow: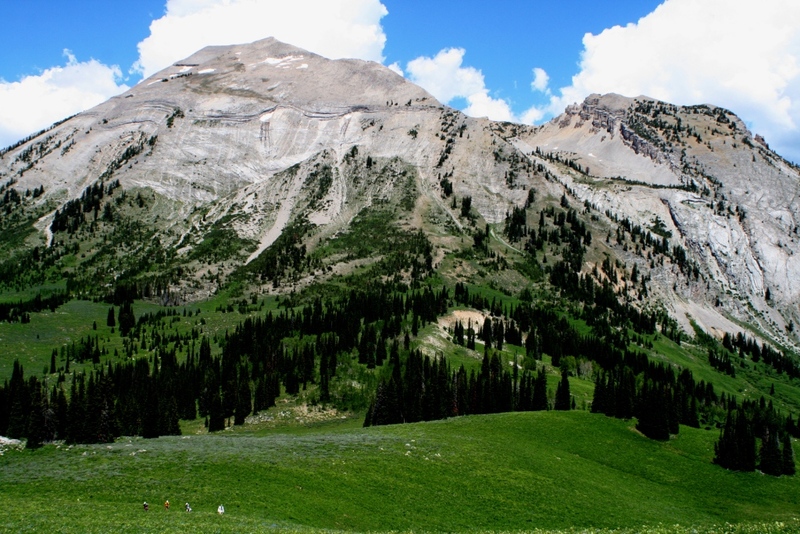 Shoal Falls is in the lower center of this photo. We didn't walk all the way down and back to the falls because of time issues: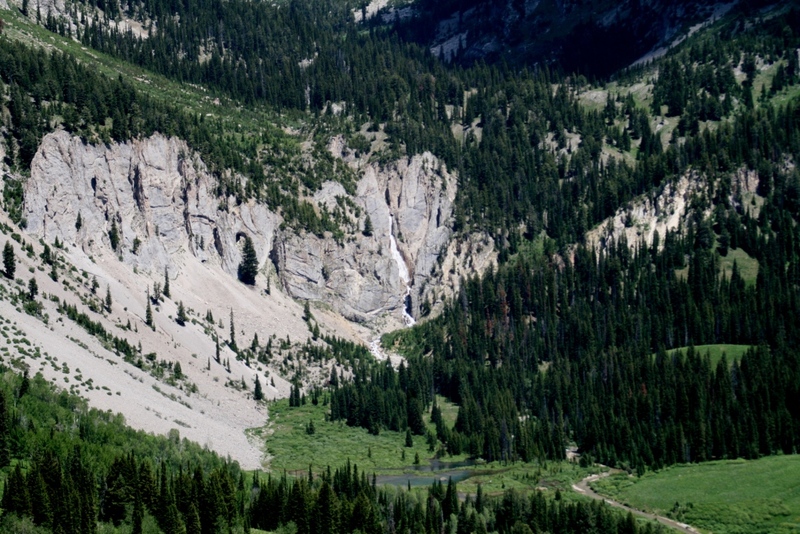 And we saw this herd of elk (along with a total of five moose):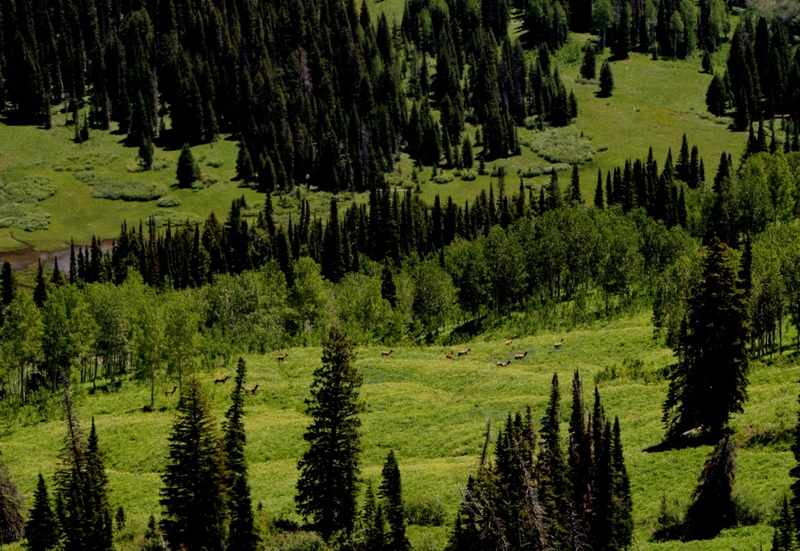 July 16, 2010... Hip Replacement Testing in the Wyoming Range:


We took a hike to Ramshorn Peak in the Wyoming Range today. It's a 7-mile one-way hike about 30 minutes southeast of Jackson. It involves about 3,300 vertical feet of climb with
some incredible vistas once you reach the top (we went to the south summit).
Along the way, we passed a very nice snowfield that looked custom made for glissading. One of our party had a hip replacement last November and we convinced him it would be fun to slide down the snow on his butt. Here's the result: