This page is a repository for accounts of some of the ski "outings" I've taken in my rather silly quest to ski at least once a month. I'm writing this during July of 2011, and I have now skied every month for the last 166 months. Assuming I'm able to make it to this September, it will be 14 years since I started my little project.
I've had so much fun along the way (even including a bunch of pretty miserable slogs and weather experiences), that I will have a hard time stopping.
A little group of us did a great tour on June 29, 2011.
Jackson Peak is a prominent peak on the east side of the Jackson Hole valley. It's part of the Gros Ventre mountain range and the summit is 10,741 feet. Jackson Peak is quite visible from most of the northern part of the Jackson Hole valley and the north-facing aspect of the peak hold snow pretty late in the season.
This photo shows the summit of Jackson Peak, as well as the old and second-growth forest we hiked through to get to the peak itself. The purple line shows the route we skinned up, the orange is where we booted, the blue is the descent route the rest of my group took and the puke-green is the route I took. The black is what looked like the most tasty line down, but it had been in the sun for a couple of hours and we were suspicious of the snow stability there.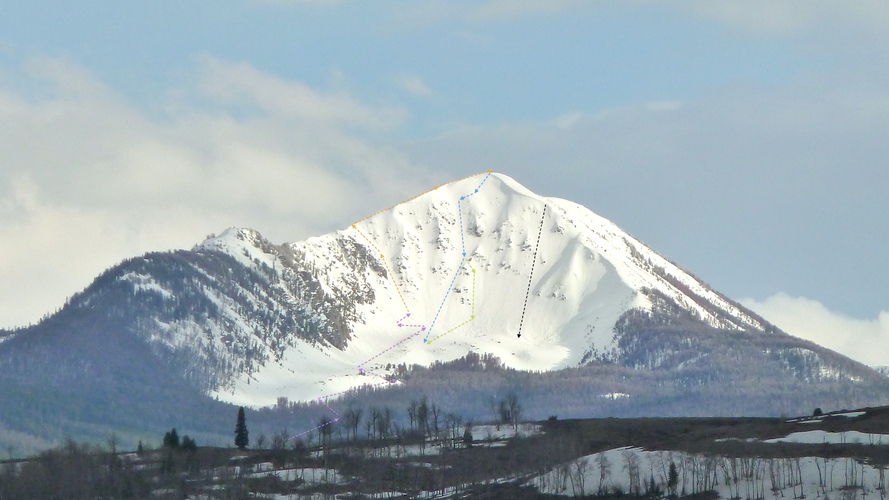 I've never been to Jackson Peak and have wanted to ski the peak for a long time, so yesterday seemed like a good day to try. We were able to drive up to the trailhead at around 8,000 feet. From there, we walked on a logging road for about another 500 vertical until we ran into continuous snow. From there, we skinned and bushwhacked through the forest until we finally came out at the base of the summit pitch. From there, we booted a little over 1,000 vertical feet up to the summit. It was a grunt.
Here are Jim and Peter booting the east couloir:
And then we trudge on up the summit ridge:
THe wind was absolutely howling on the summit and we quickly threw on clothes and jackets against the wind chill. Dave is talking to a friend from down in the valley by the airport who is watching us with her telescope:
Incredibly beautiful surroundings:
We chose the center couloir off the north wall. Peter headed valleyward:
And Jim with the Tetons in the far background:
Dave with a big smile on his face:
The little dots in the center of the photo are the rest of my party waiting for me:
Group shot at the bottom:
Crazy amount of snow for the end of June.
9-29-1999 Mt. Timpanogos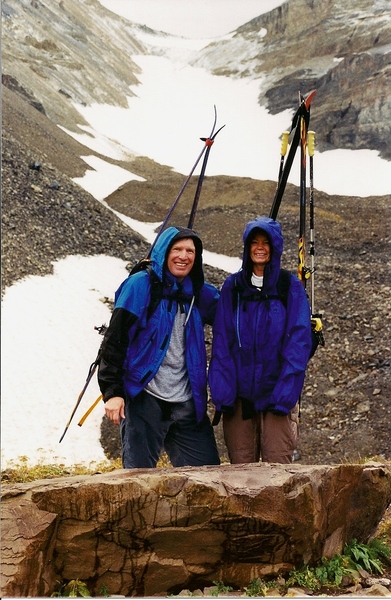 Andrew Sand Skiing 8-6-1998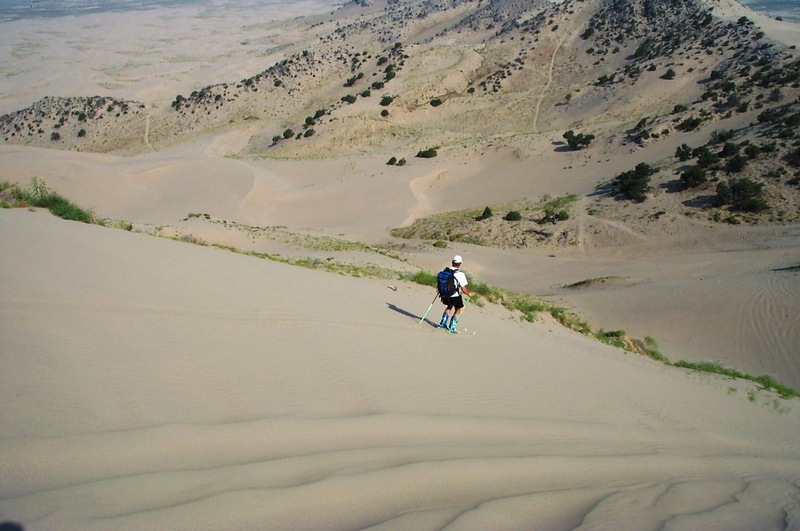 Andrew surveying his line. 8-6-98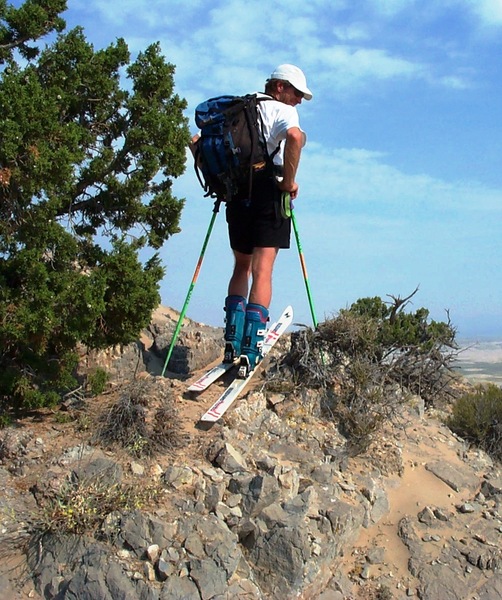 Bob on the breakover of the bergschrund at Beartooth Pass 9-27-08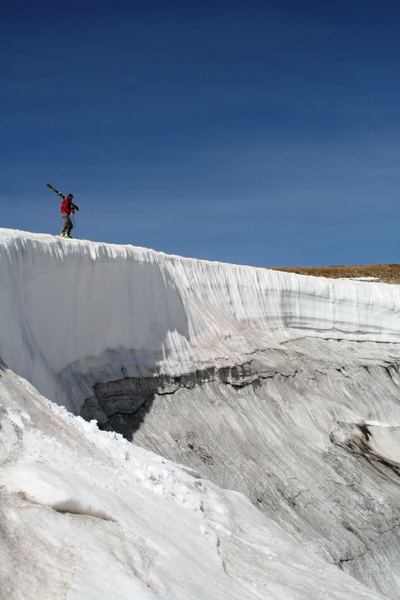 Bergschrund Snowfield - Beartooth Pass 8-17-07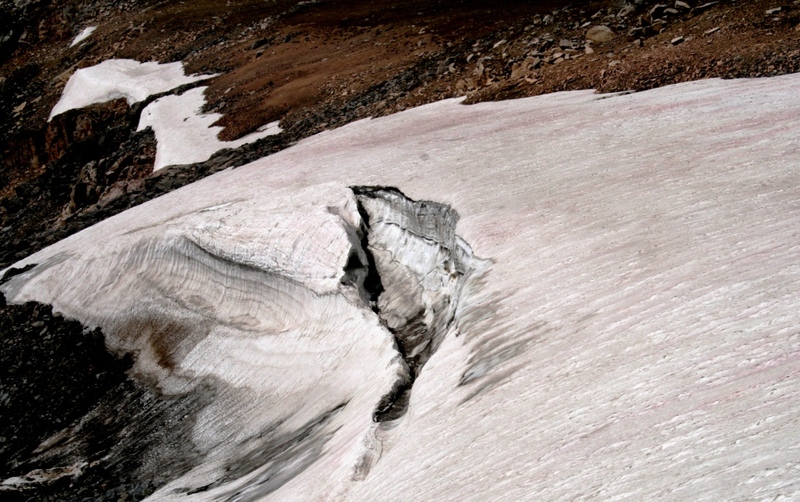 Kurt and Bob Sand Skiing August 2008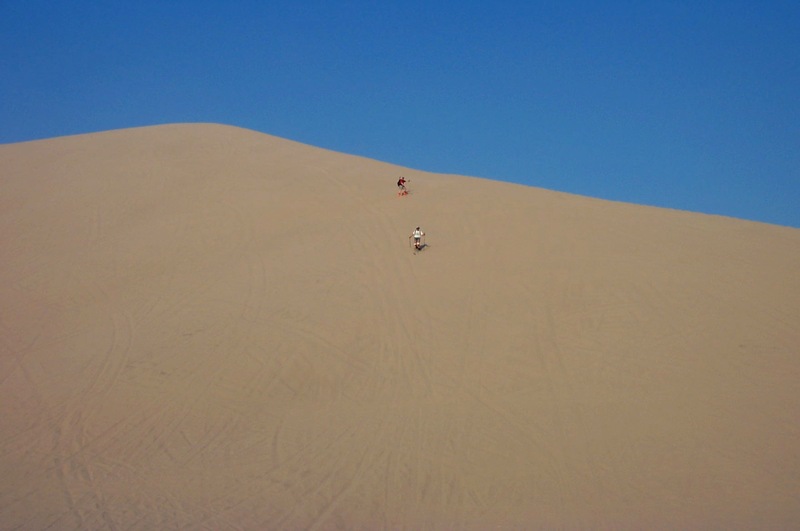 Bob Skiing Roman Couloir in Wolverine Cirque - June 2006: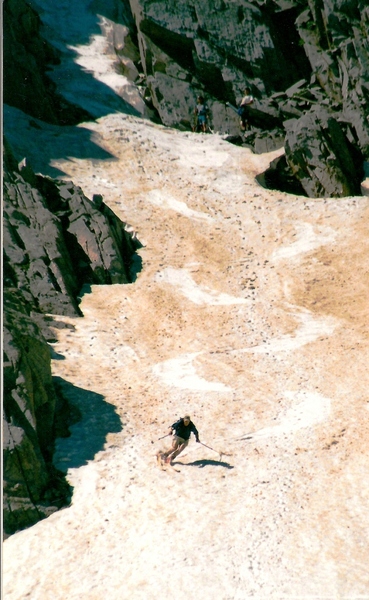 Standing in the weeds at Park City 10-24-98: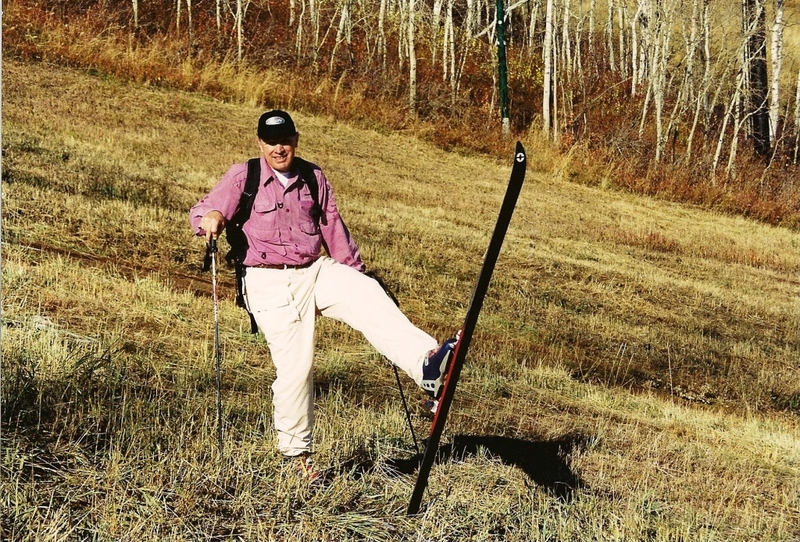 Bob Skiing Wolverine Bowl March 1998: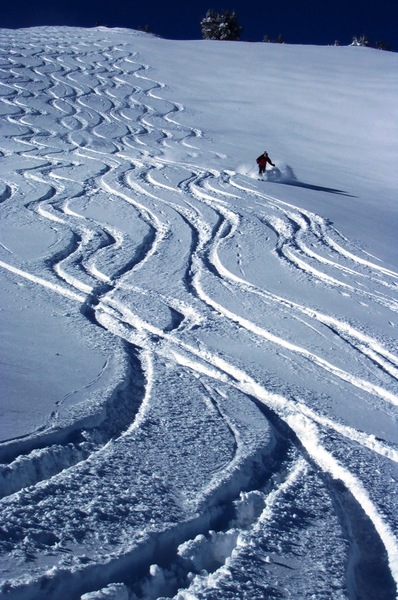 Bob skiing above Lake Blanche, Big Cottonwood Canyon, 6-16-02: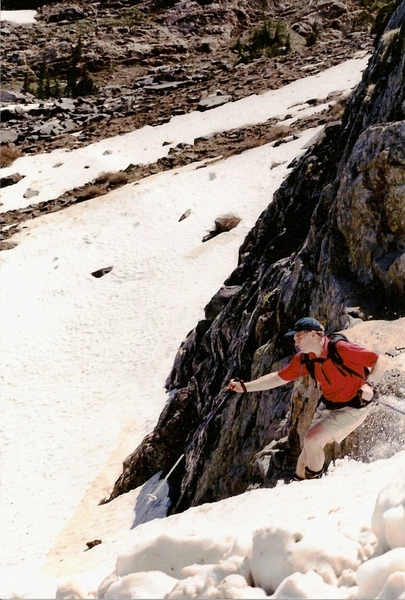 Bob skiing avalanche debris above Lake Blanche, Big Cottonwood Canyon, 6-16-02: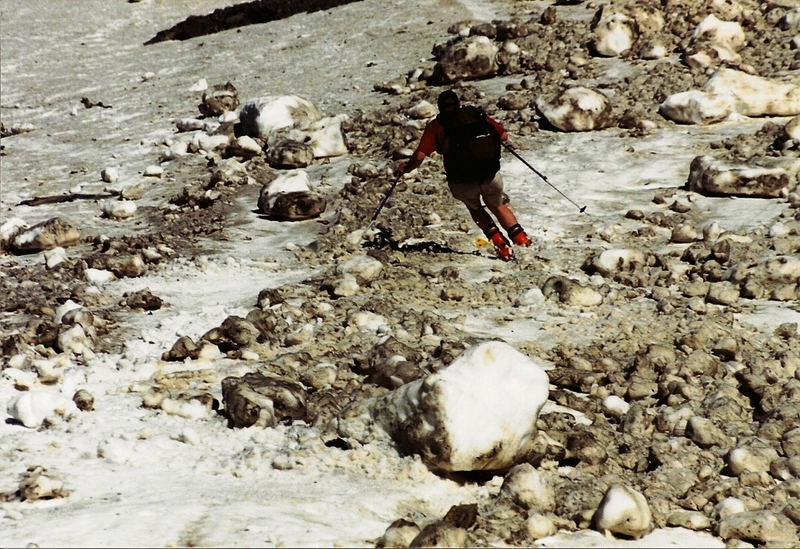 Bob skiing Cody Bowl with elbow brace, 8-26-2004: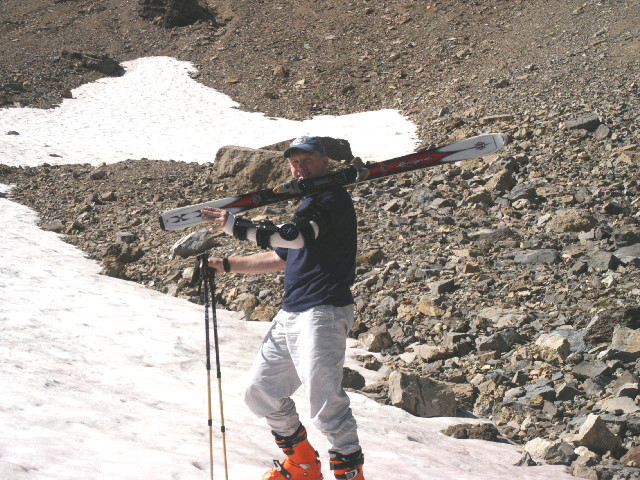 Bob skiing Montezuma Snowfield under Castle Peak near Aspen, 9-1-01: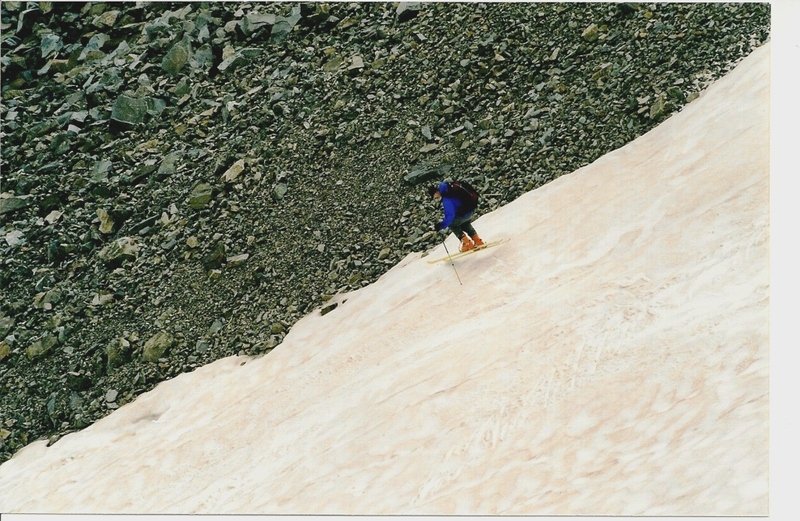 Bob skiing Bergschrund Snowfield on Beartooth Pass 9-27-08: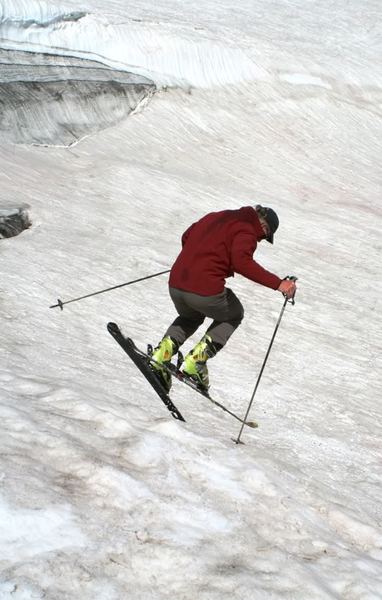 Portion of Teewinot Peak in Grand Teton National Park that I skied on 8-9-02: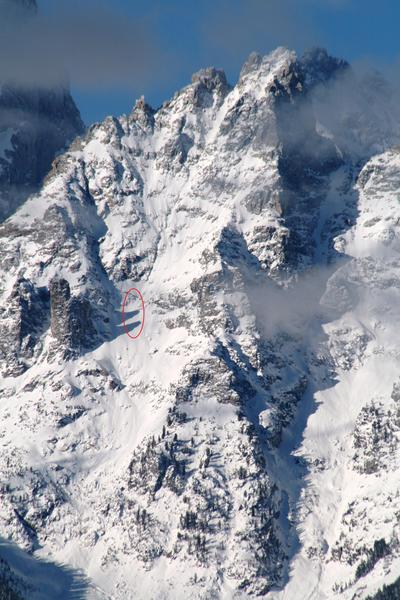 Skiing Teewinot Peak in Grand Teton National Park on 8-9-02: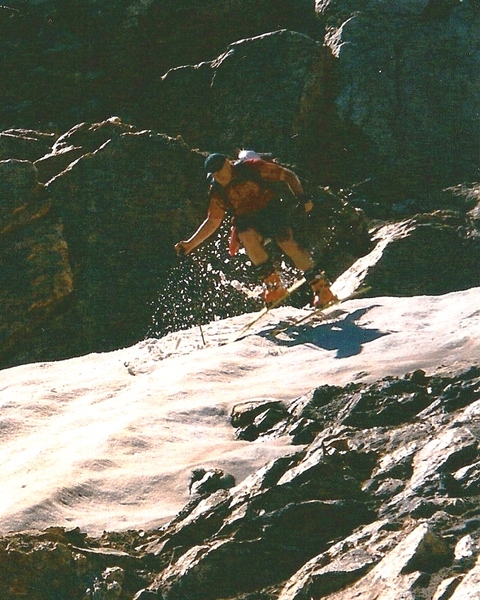 Bob and Kurt sand skiing August 1998: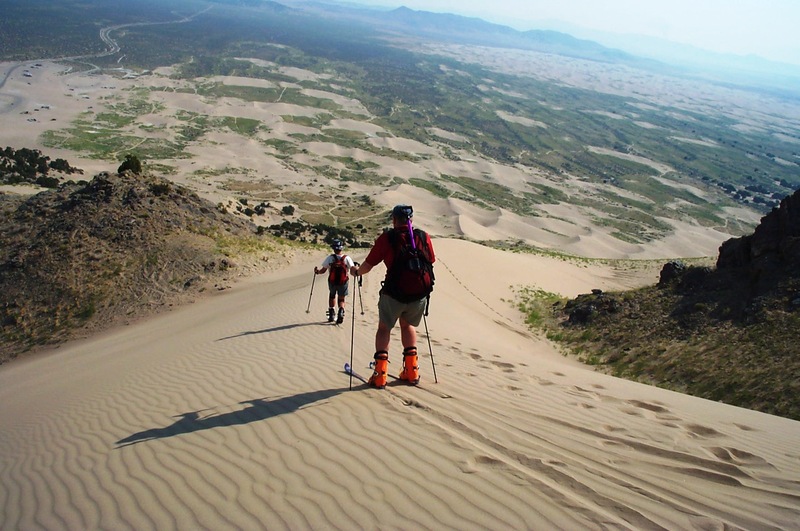 Sand skiing hiking up. August 1998: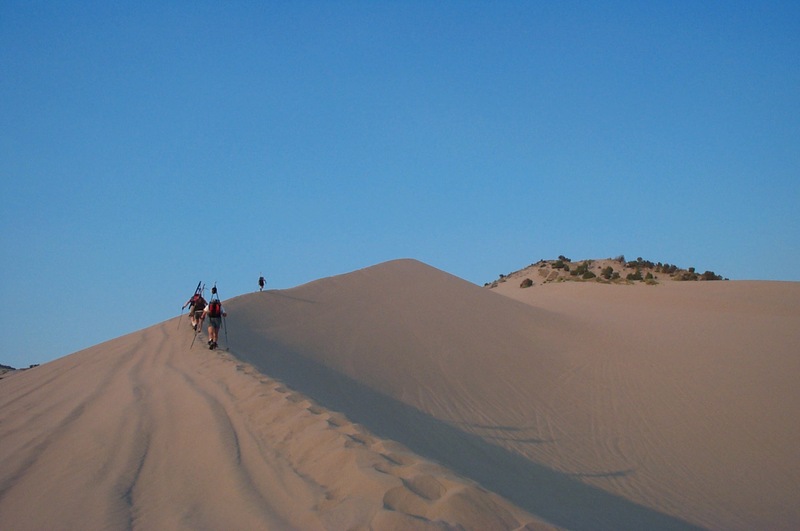 Sand skiing accident sign. August 1998: